The Walsingham House team are back working with young people!
24th May 2021
In September 2020 when we welcomed the fantastic Erin, Flik, Lewis, Raphie and Rachel to Walsingham House at Abbotswick, the year spent volunteering at our retreat centre was not exactly what they had imagined! Having settled into community life in Navestockside,  the team were able to begin their work with young people visiting schools in October and November alongside House Manager Joe and Assistant Managers Georgia and Harry. Working closely with those schools and following a carefully considered COVID risk assessment, they began to lead fun and inspiring retreats through the Autumn term of 2020.
However, when the volunteers left the house and went back to their families for a well earned Christmas break, the announcement of a third lockdown in January extended their Christmas break all the way through Lent and in to Easter! The team were not phased though, and spent their time at home creating beautiful images, thought provoking activities and filming to bring some fantastic online resources such as a series of assemblies for Primary and Secondary schools, celebrating the feasts of St John Bosco and Our Lady of Lourdes, reflecting on Ash Wednesday and continuing throughout Lent. You can still view these assemblies on our YouTube channel here.
Finally, in April 2021, the team were able to move back to the beautiful grounds of Walsingham House at Abbotswick, and this month have been able to return to schools and parishes to work with the young people of Brentwood Diocese and helping them to develop and understand their faith further.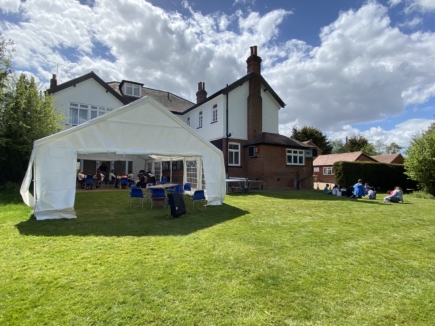 On a very sunny May afternoon, a group of year 5 students visited Walsingham House at Abbotswick, where they focused on the Parables of Jesus.
Taking advantage of the good weather. and with the added space of a marquee in the garden, they examined the parables of the sower, the lost coin and the prodigal son and reflected on how we can bring them to life today, especially in light of the pandemic.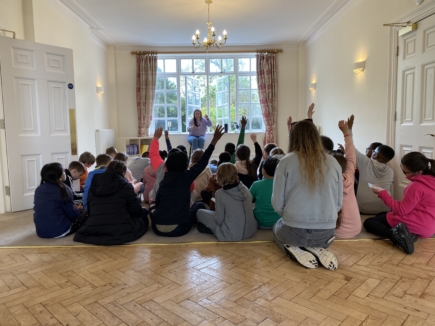 With a group of Year 6s, they began to look at how we are all God's work of Art by looking at what gifts and talents make us unique.
The group were able to make use of the beautiful 14 acre grounds of Walsingham House at Abbotswick, and looked at the beauty of nature as another of God's works of art. They then added to this by planting their own sunflowers!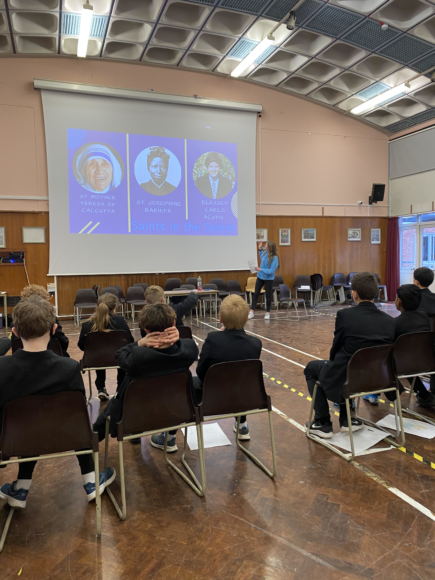 Also working with secondary schools such as St John Payne and Sacred Heart of Mary Girls' School, the Year 7 outreaches have been focusing on the calming of the storm and how Pope Francis has told us this last year that we're all in the same boat with Jesus.
One school commented "The staff were excellent and really involved with the children. The content was engaging and enabled all pupils to interact and get involved. The children (and ourselves!) thoroughly enjoyed the morning. ".
From what has been such a difficult year for so many, the Brentwood Catholic Youth Service and Walsingham House at Abbotswick team are so grateful to now have the opportunity to get back to working with the wonderful young people of Brentwood Diocese, and spreading the love and word of Jesus. 
If you would like to book a retreat or speak to the team about what they could offer in your school or parish next year, you can get in contact with Joe Beattie at [email protected] or by calling the office on 01277 373959.