Great ideas for school display boards
Got extra board space in school to fill and want some new ideas?
What to do with display boards?
It's part way through the year, there are Masses to be organised, resources and prayers to get printed & delivered and assemblies to plan. All the great aspirations of display boards have fallen to the way side. Even if we do find the time to do them we end up relying on the same ideas year in and year out that fail to grab attention.
Pinterest never fails to disappoint and inspire creativity!
If your feeling downhearted and want some inspiration for your display boards at school then Pinterest is the place to go.
There are literally hundreds of new ideas/posters/infographics waiting to adorn the walls of your school. Here is one example of a Pinterest board called: 'Catholic Classroom Ideas'
There are plenty of great ideas bound to get students attention and get them thinking, even if only briefly, about the divine:
Pope Francis' Tweet of the Week (or even better Instagram of the week)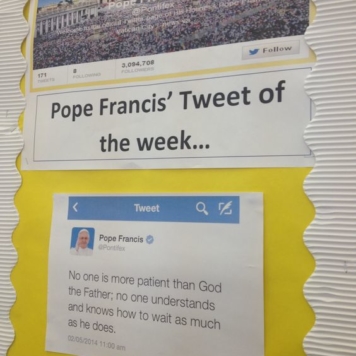 A different kind of interactive board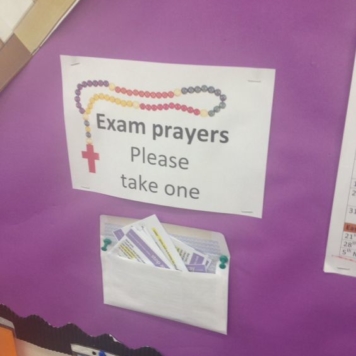 These are just some of the great ideas that can be found with even a little bit of time invested into exploring Pinterest.
All you have to do is put a few key words into the search bar, like:
Catholic
School
classroom
displays
and you're away…
Is it worth the time and effort?
I was recently told a story by a priest who when he was a schoolboy (and not a Catholic) he remembers in his Anglican School a large picture of John Paul II who arms were open as if to embrace the world which greeted him as he entered the front door of his school for many years.
As he told me about this image with much nostalgia, he spoke about how, in a very small way, something of his vocation was born from that image on the wall of his school.
Now, we are not claiming that changing board display is likely to increase the number of vocations or it should be one of the biggest priority, but it is certainly true to say that, particularly in our very visually focused world, people can be lead from the aesthetic to contemplation of the true and the good.