App Review – 3 Minute Catechism
A catechism with a creative twist
WHAT IS IT?
3MC (3 Minute Catechism) is 72 free catechetical videos based on the Catechism. They are freely available to watch on youtube as well accessible on a free to download app.
To download the app search 3MC in the app store or google play.
It has 9 main sections which cover key concepts in the spiritual life in bitesize videos normally lasting around 3-4 minutes.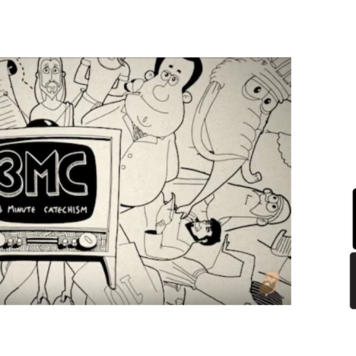 WHAT DO WE THINK?
The animations are very high quality and the explanations are very simple to understand and relevant. It is a good resource that can be recommended to young adults, either as a supplement to a confirmation programme or as a general resource for spiritual growth.
The videos are narrated in a bold and frank American style which might be off putting and may not translate well to some British young people. Therefore, it would be advisable to watch any videos you want to show in advance. It may be advisable to narrate aloud alongside the clip.
Possibly the best use of this app for a catechist is for personal formation and hearing the way the videos tackle key questions in the spiritual life. The insights from the video will provide use analogies and training for catechists.