18 hour challenge update – an amazing total!
22nd September 2020

18 hour challenge update – THANK YOU!
The total raised for the 18 hour challenge has now been finalised – it is an amazing £7794.77.
A cheque for £3897.39 has been sent to CAFOD, for their vital work in countries where poverty is made worse by the pandemic; the same amount will be used within the BCYS to maintain our work in this difficult time when there is no retreat or event income.
To read more about the 18 hour challenge scroll through this post, where you will also find all the links to "Lourdes in your Living Room" from late July. 
To donate to support the BCYS please go to www.bcys.net/donate 

The Summer Lourdes pilgrimage usually involves about 250 adults from across the Diocese, including many who are frail and ill, as well as 250 young people who travel to serve those who need extra help to move around Lourdes. This year, as we cannot travel to Lourdes, we are bringing Lourdes to your Living Room!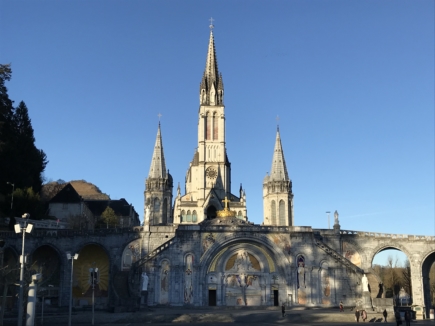 Everything you need to participate in the pilgrimage is in the Liturgy Handbook, which you can download with one click here: Lourdes Liturgy handbook
It is a PDF so you can print it, or have it on a second screen next to you, as you follow the Masses and liturgies.
All the prayers, Masses and reflections will be on YouTube (@BrentwoodCYS) as well as the Friday evening talent show.
A "green screen" in the Walsingham House chapel will give you the effect of being in some of the iconic places in Lourdes.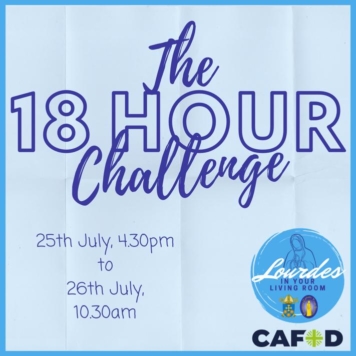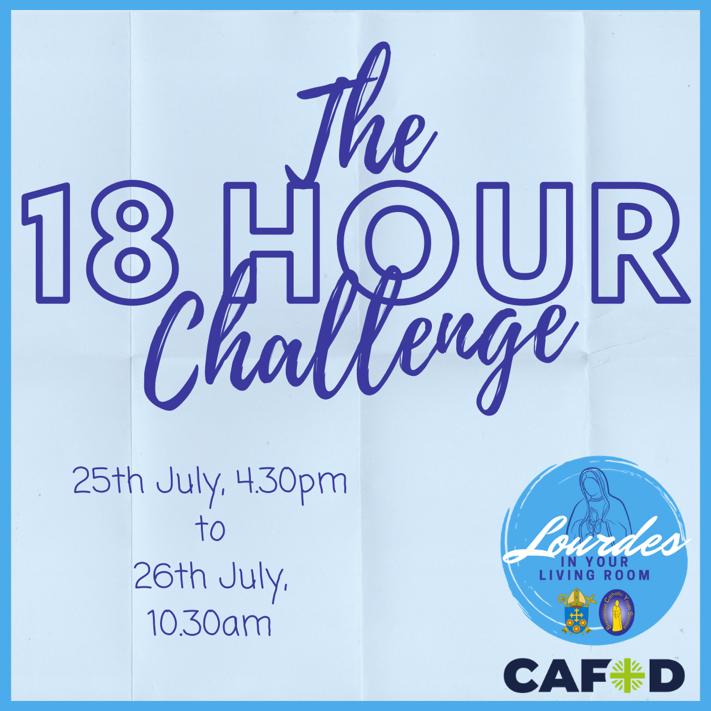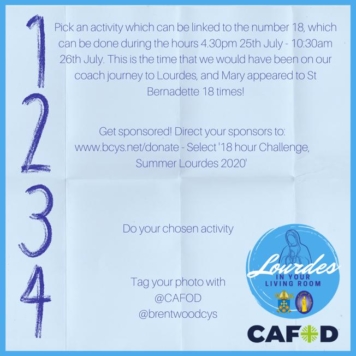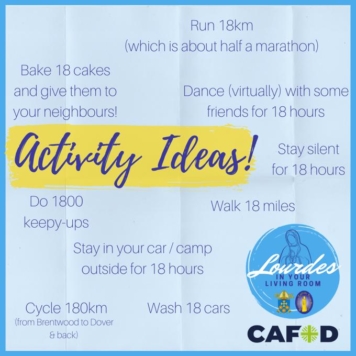 Young people are beginning their week with "The 18 Hour Challenge" – raising money for the BCYS and Cafod in the time it would normally take to travel to Lourdes by coach (and, of course, Mary appeared to Bernadette 18 times).
Full details here: https://bcys.net/events/18hours/
Sponsorship can be offered here: www.bcys.net/donate (and select "18 hour challenge" – the first option in the donations list). Thank you.
With all these creative elements, along with reflections and homilies from Bishop Alan, Fr Paul Keane, Fr Martin O'Connor, Fr Bob Hamill, Rev Paschal Uche, Rev Adrian Lowe, Michael Barwick and Fr Dominic, it should be a week full of inspiration, joy and challenge.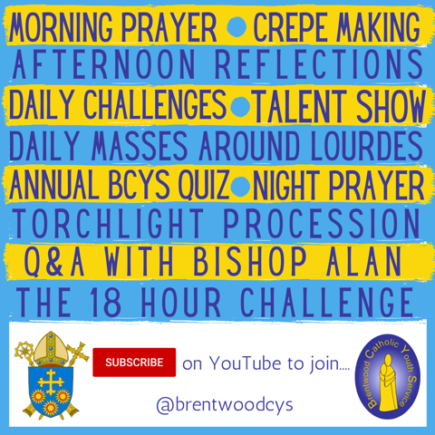 For young people, the BCYS are adding a programme around the main pilgrimage programme. This includes a Quiz, Crepe making, and a Q&A with Bishop Alan. If you are aged 15-23 and would like to be involved, the best way is to follow us on Instagram (@BrentwoodCYS), as well as subscribing to YouTube.