The BCYS in #UKLockdown2 – National Youth Sunday and much more
5th November 2020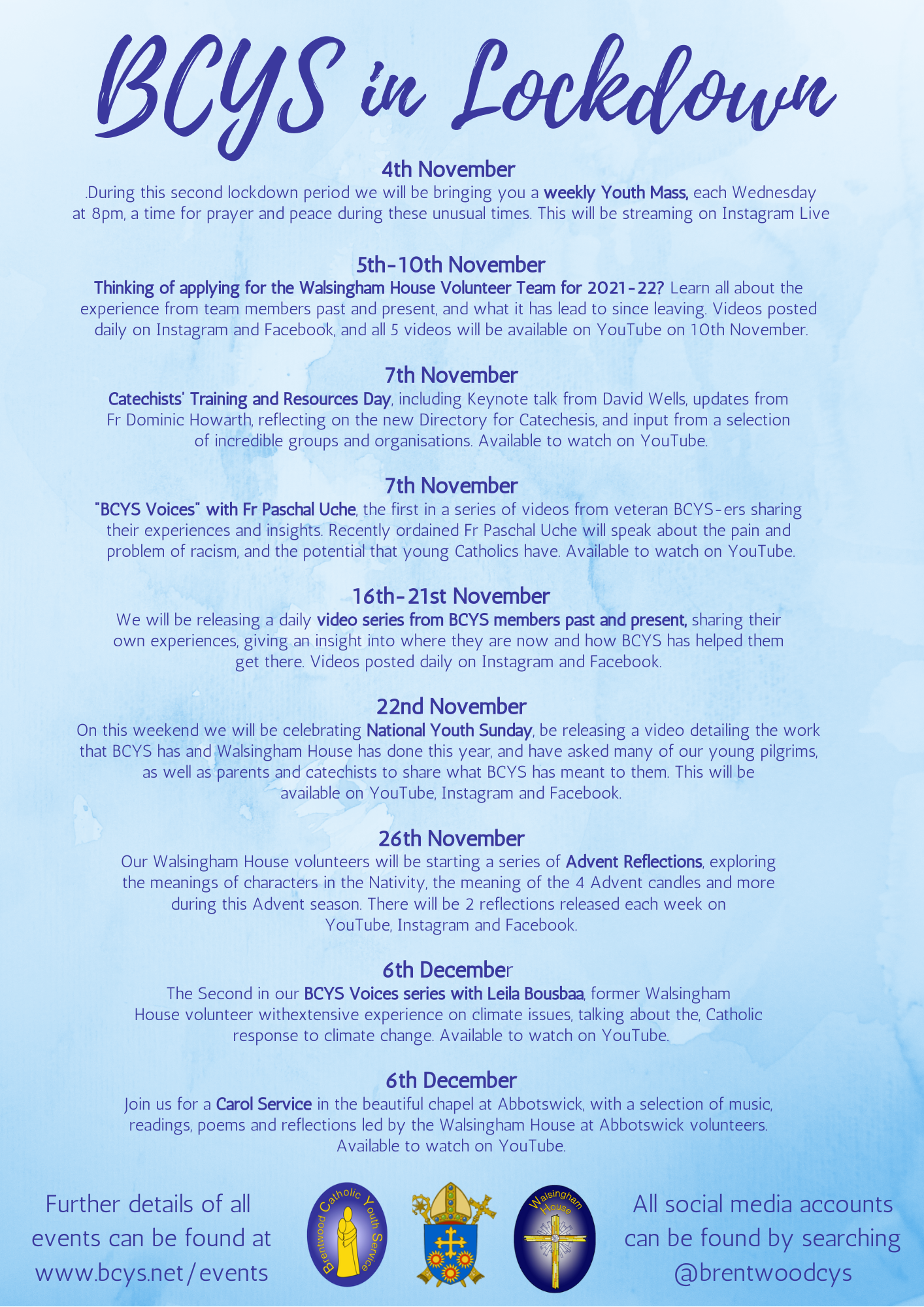 During the first Lockdown the BCYS offered as much as possible online – and we will be doing the same again in November and Advent. Weekly Youth Masses (Wednesdays 8pm); wonderful speakers for young people and catechists; and special short videos leading up to National Youth Sunday, and throughout Advent, will all feature in the next few weeks.
We are delighted to have involved many young people together with young leaders, parents and catechists, to prepare the short videos that lead up to National Youth Sunday (22nd November). You will find the CYMFed resources for National Youth Sunday at https://nationalyouthsunday.com/ – these include resources for parishes, schools, and for young people themselves. Part of the resources contain wonderful quotes from Blessed Carlo Acutis – a modern Saint who died in 2006 when he was just 15 – along with an animation which tells the story of his life, and which is ideal to share on your own social media.
Available on YouTube from Saturday 7th November there are longer inputs for both catechists and young people – for catechists these include international speaker David Wells; for everyone, especially young people, our "BCYS Voices" series begins with Fr Paschal Uche and will continue through until March.
The Walsingham House Team are presenting thoughtful and prayerful Advent reflections starting from just before Advent, on November 26th. You will also find short videos from current and former Team members telling you more about what it means to be part of the Team – especially for those currently in Year 12 or 13 who are thinking about a Gap Year.
Livestream Mass via Instagram is celebrated each Wednesday at 8pm. If you are in a parish without a livestream Sunday Mass and find it helpful to join Fr Dominic, you'll find Mass on the RomfordRC YouTube channel live at 9.30am each Sunday, and available on the channel from then on throughout the day: St Edwards Romford YouTube Channel
We hope all of this sustains you – and we are always at the end of an email or phone to help you in any possible way. Our e-flier for National Youth Sunday – to share wherever it is possible – is below, and this gives more information about what we have done over the last few months, as well as an appeal for funds to support all that we are doing.
Thank you for your prayers and encouragement; be assured of our prayers from Walsingham House at Abbotswick.
Fr Dominic, Joe, Gabby, Harry, Georgia and the whole Walsingham House Team