There are lots of great resources to help you with the key aspects of your Lenten journey – prayer, fasting, and doing charitable actions/giving to charity. Here are some of the best for Lent 2020 …
For Teenagers/University students
For teenagers and those of Uni age, some excellent sites for personal prayer and reflection, with fresh resources each day of Lent: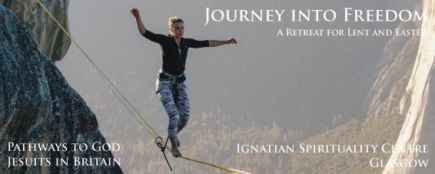 Transform your life - Join Lent Online 2020
The Jesuits are offering a powerfully reflective journey; sign up and you'll receive a link each day with new images and insights for prayer. It is especially good if you can do it as a group, meeting together once a week to chat and share insights. Perhaps a group of Year 11-13s at school, or a group of friends at Uni? All the details are at https://www.jesuit.org.uk/transform-your-life-join-lent-online-2020
---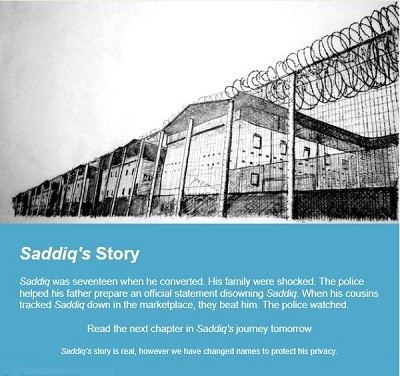 Accompany Refugees With JRS This Lent
From a different angle, the Jesuit Refugee Service is offering the experience of journeying with refugees through Lent, with scripture passages, reflections, and a definite action for each day of Lent, to show solidarity with refugees. All the details are at https://www.jesuit.org.uk/accompany-refugees-jrs-lent
---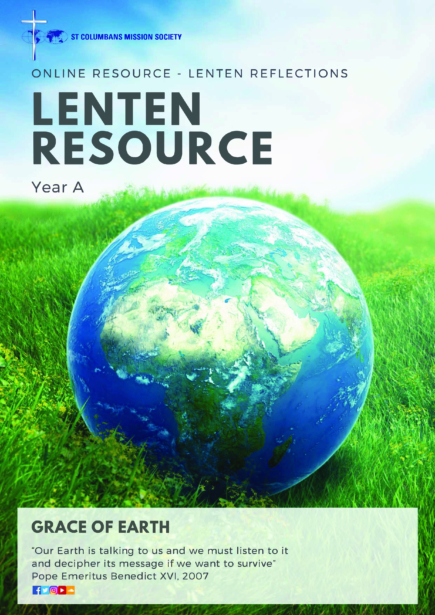 ---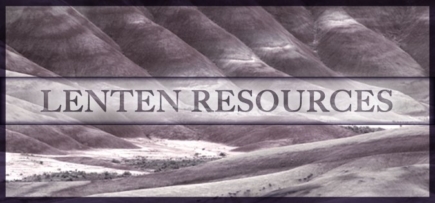 Ignatian Spirituality
There are a huge range of online Lenten retreats, reading and video reflections at https://www.ignatianspirituality.com/lent/ – the page contains many links, and many ideas. Take time to discern the right one for you this Lent.
---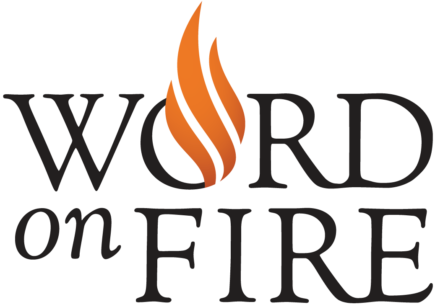 Lenten Gospel Reflections - Word On Fire
Bishop Robert Barron and "Word on Fire" Ministry offer this series of daily meditations for Lent; they have a strong tradition of bringing Catholic teachings alive on digital media. The website is https://www.lentreflections.com/
---
For Teachers / Catechists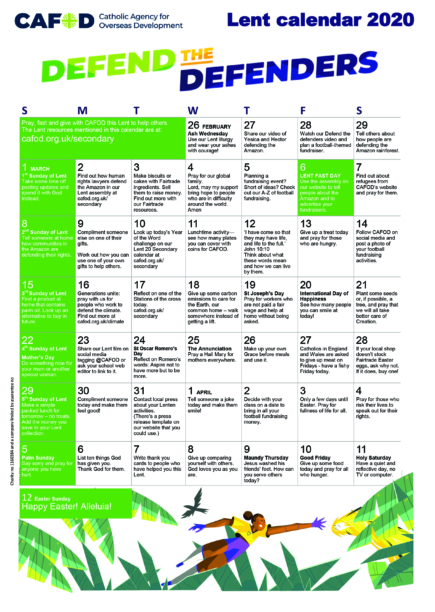 CAFOD - Lent Resources For Young People
---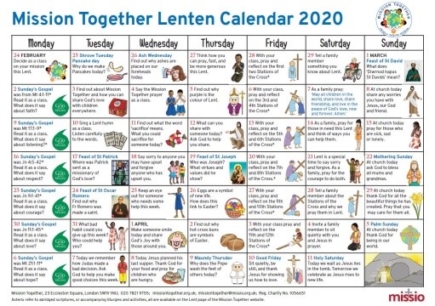 Mission Together - Lent Resources
The Mission Lenten calendar and lots of other resources can be found at https://missiontogether.org.uk/lent/ Everything is free, and everything is printable / downloadable. The Missio resources are especially good for younger children – primary school / First Holy Communion age.