In the footsteps of St Oscar Romero – a poignant visit to El Salvador by Georgia Sayer, from Walsingham House
24th March 2020
"ASPIRE NOT TO HAVE MORE BUT TO BE MORE"
40 years ago, St Oscar Romero was killed because he spoke out against the situation in El Salvador. In February 1977 he became the Archbishop where he lived in the sacristy of the Church for many years. During this time, he spoke in his homilies to call for justice and support; he spoke out against poverty, social injustice, assassinations and torture due to a growing civil war between left- and right-wing forces. In one of his last homilies he spoke directly to the soldiers and said they needed to 'consult their consciences rather than orders.' These homilies were broadcast across the country which began to cause a lot of friction. The day before Romero was killed, he went to his routine Confession; in his words he 'wanted to be clean when he meets God'.
Last November I was lucky enough to travel to El Salvador with the Romero Trust to learn more about the work of St Oscar Romero and the current social standing and how we can help all these miles away. St Oscar Romero said "Love and peace are rooted in justice. Without justice there can be no true love; without justice there can be no true peace", these words are so important and teach us how we should approach situations. This became extremely powerful and real within the many different people I met in the communities we visited.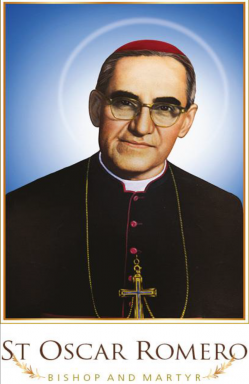 Although there has been an incredible improvement in El Salvador more can still be done due to the extreme ongoing impacts from the events during the repression of the 1970s and the civil war from 1980-1992. The current population of El Salvador is 3 million people less than it should be: this is because people are fleeing from poverty, hunger and violence.
The first place we visited was the church that Romero was killed. This church was so beautiful especially knowing such an incredible person used to preach from that altar, the experience we had would be something very different 40 years ago.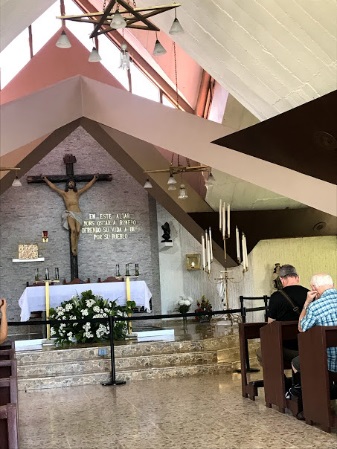 Next door to the church was The Divine Providence Cancer Hospital. It was built 54 years ago and is the only hospital in El Salvador that offers palliative care and was the place where Romero was chaplain. Romero used to suggest that people should do their act of service by going to visit the sick after Mass. This is exactly what we did. During this visit I met one of the patients who had a terminal illness. I asked him what keeps him going and he said to "just keep praying, He will answer". This man's faith is so strong, and his words remind me of Jeremiah 29:11- 'For I know the plans I have for you declares the Lord, plans to prosper you and not to harm you, plans to give you a hope and a future'. This teaches us that no matter what God is by our side, has a plan for us and we should trust in him.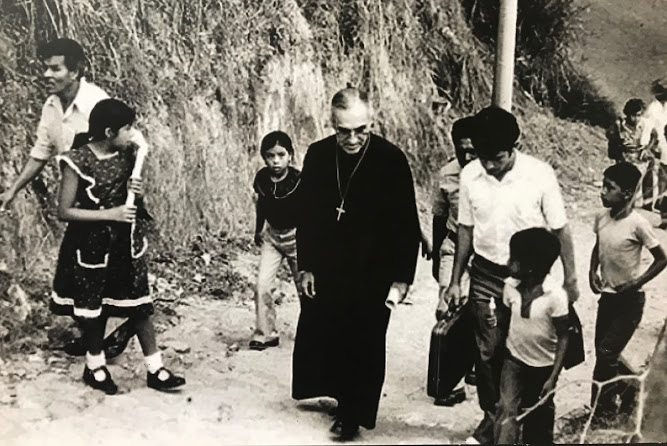 We then visited a parish youth centre where four young catechists and their priest were murdered by the army. The boys were on retreat and were being trained up as young catechists. However, the people in this community told us that they use this experience to teach us how valuable young people are and how strong our faith can be even as a young person: despite stereotypes, we can and do stand up for our faith. The community has very little money, but what they do have they put towards the future of the community. We met a 25-year-old nurse who explained that she works for the youth council and that the parish paid for her to become a nurse so that she can continue to help the future of the community in a positive way. She said that you need to 'take risks and to not hesitate', something that is so important for every young person, not to worry about the outcome, but know you gave it your best shot.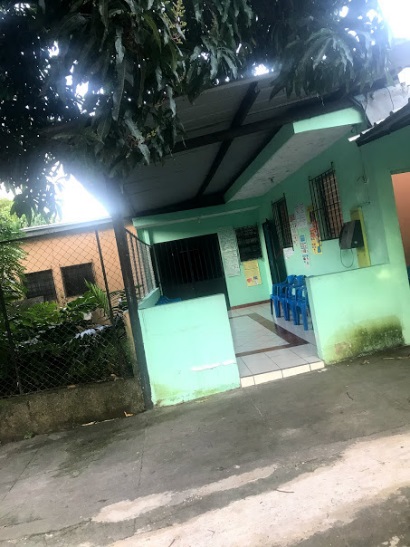 We continued to see how people are living out Romero and his teachings in one of the poorest areas of El Salvador. We visited a school project run by the Poor Clare sisters; the school is based on faith and joy to allow the poor to have high quality education, not just the elite.
La Chacra is the village where the school is situated, the area is controlled by two gangs from opposing communities, the aim of the school is to create peace, reconciliation, self-empowerment and respect, teaching the children they can build community and not to be involved in the gangs. The dream is to rescue these children and adults alike. One lady explained that she never 'played' until she was 57 and this was due to the work of CAFOD and the support they give. This is how we can help from different places by supporting the work of CAFOD. The head teacher says it is tough for all people, she spoke about how she had to look through body bags to look for her students. As well as gang violence, there are high levels of sexism and police brutality which the government denies is happening. They want to stop young people who have lost their families looking for the emotional homes in these gangs.
However, despite the fear in this community, the community brought so much joy to us. They had the biggest smiles on their faces, they taught me that no matter what we can see a positive in any situation and 'make the most of every minute of every day.' They gave us a showcase of their projects from a rock band, to traditional dancing to a marching band and even card making. They explained they use these groups to create a community bond. They told us to 'have hope against every hope.'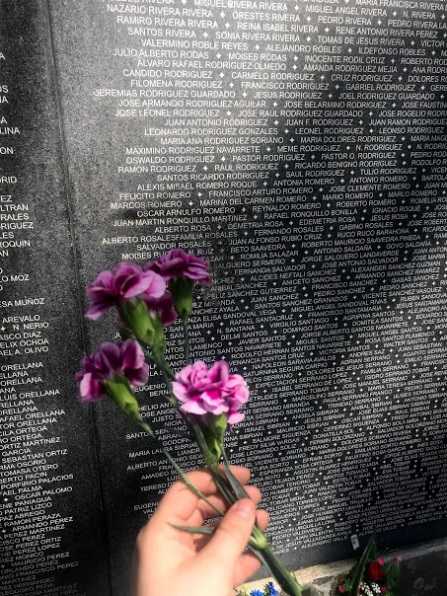 Across the country there are many monuments and displays of almost 30,000 names of people who were killed or disappeared in the repression of the 1970s and the civil war from the 1980s. Our accompanier told us that progress is slow, but progress is progress and the monuments are memorials to memory and not to history, this is because memory belongs to the victims, history belongs to the powerful. Behind each name there is resistance, each name on the monument is trying to restore dignity to those whose dignity was taken away by the powerful. The monument is to tell the world they are good people; workers, students and even young people. Romero said they are all saints, saints of the people because of the generosity, they gave their lives for their faith.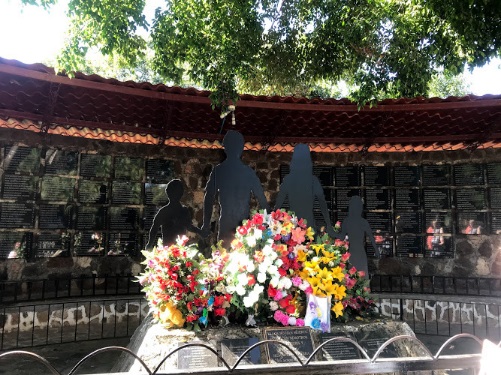 During this time there was a massacre at a place called El Mozote in December of 1981. The army tricked more than 1000 people to gather including the elderly, pregnant women and children. The army were given an order of 'scorched earth'. The people were grouped together and killed so there were no survivors. There seemed to not be any survivors until one lady called Rufina managed to escape and remained hidden but broadcasted her testimony to fight for justice. For many years the government denied the crime but the people fought and are beginning to get recognition and restoration for the victims. Furthermore, in recent times, two soldiers have given evidence which back up the accounts. Six years later, the government have been made responsible for the crime and it has made reparations to the victims. The victims want the whole community to benefit and small reparations have happened, a school and health centre has begun to be built.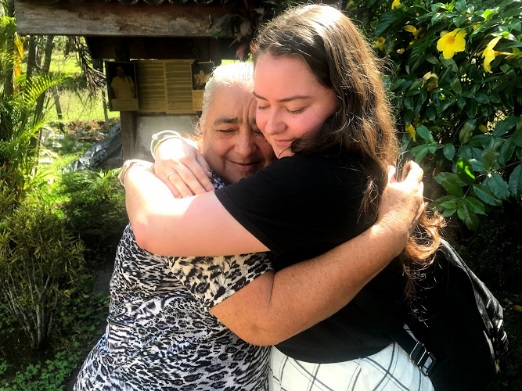 During my visit, I met this lady. She told us that she in fact survived the massacre but was too scared to come forward at the beginning. 32 members of her family were killed. However, she showed me that you must have faith and courage and stand up for what you believe in because she said, 'we need to ensure this crime doesn't go unpunished or forgotten and justice is done'. She said to us that the armed forces cannot keep them quiet because alone they are very small but "when joined, we can be a volcano."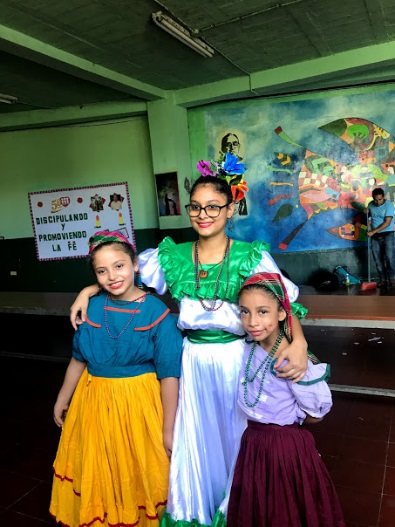 CAFOD are also working alongside the communities in El Salvador, in places where 75% of homes have no electricity or running water and the average family income is £18 a month. The families we met here had the biggest hearts, offering us a meal, thanking us for listening to them as they taught us about gender justice and women empowerment. They showed us how they educate people that women should have equal rights to men, something that isn't common in El Salvador, Women aren't even allowed bank accounts. However, CAFOD support these projects to allow women to work the same jobs and men to create an income for their families.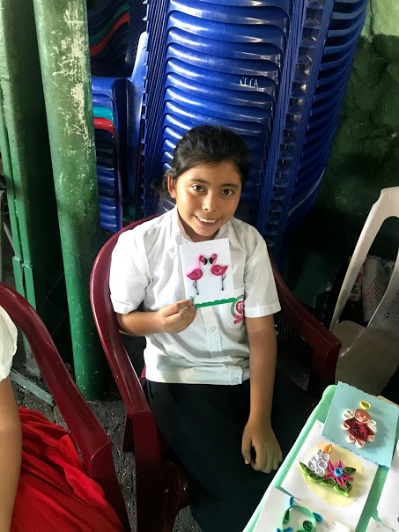 Oscar Romero is such an important Saint not only for the people of El Salvador but for everyone, teaching us to fight for justice. In February 2015, Pope Francis gave the push for him to be beatified. In August 2016 there was still no miracle to prove the case for him to become a Saint. This was until a lady called Cecilia came forward. Cecilia had 2 children but previously had 2 miscarriages. She was pregnant at the time of the beatification and needed to suddenly deliver the baby. Due to the operation she immediately went into a coma. During investigation her body began to swell with water, her kidneys stopped working, her liver failed, and her lungs filled up with fluid. She had barely any use of her lungs and her heart stopped working. The doctor, who was an atheist, told her husband that if he believed in God he must go home and pray for a miracle. Immediately he went home and picked up a Bible and out fell a photo of Romero. He prayed for the health of his wife and that his children wouldn't go without a mother. The next morning, he went back to the hospital where the bed was empty, she was improving and then got discharged from the hospital. A year later she didn't need to go to the hospital anymore and has been tested as a healthy woman. There is no medical explanation, the only explanation is Romero.
Georgia Sayer
Walsingham House at Abbotswick Team 2019/20