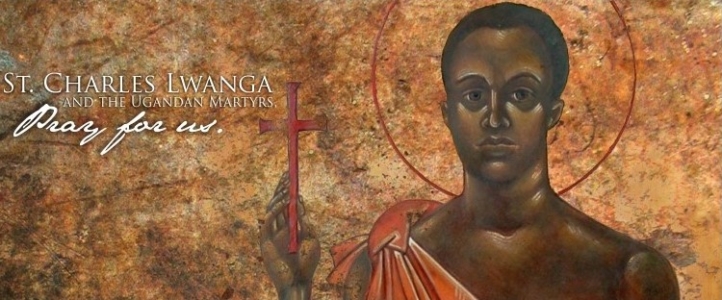 Today is the Feast of St Charles Lwanga and his companions. Charles was Ugandan, and died aged just 26. His story is a remarkable witness of conversation, faith and courage. We will share his story during Mass, as we reflect on and pray for those who make sacrifices for their faith every day – including those who, like Charles, risk death for proclaiming that they are Christian. Charles died over 130 years ago – but his story has lots of echoes in our time. Indeed, in Lockdown we may well need a similar courage and faith, for all sorts of reasons. 
Before Mass begins we encourage you to find some stillness, and to have a cross or candle at hand, to recognize that this is sacred space – even if it is Mass is on an iPad in your bedroom.
There's a booklet with hymns and readings to download on a second screen, if you have one, or to print out, if that is possible: Youth Mass Booklet St Charles Lwanga
You'll find the Mass on Instagram or YouTube – on both simply search BrentwoodCYS. Everyone is welcome online, always.