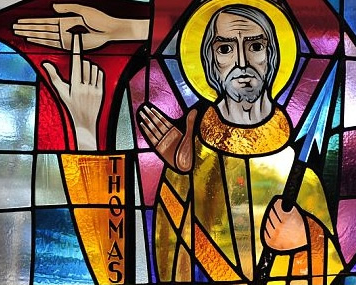 This Friday (3rd July) is the feast of St Thomas the Apostle, also known as "doubting Thomas."  He is the one who is absent when Jesus first appears to the disciples after the Resurrection; he says that he won't believe Jesus has risen until he can see the holes in his hands and the wound in his side – indeed he says that he wants to be able to put his hand into the wound.
And then Jesus meets him – and without judgement or anger he simply invites Thomas to do what he has asked to do, and says to him, "Doubt no longer but believe."
What about us, in this time of Coronavirus? Are we full of doubt – doubt about whether there even is a God, doubt about many aspects of life. Will things ever return to normal? Do we want them to? What could a new normal look like? And would Christ be at the centre of your new normal? 
These are natural questions – and we might even take it further, and consider what our tests would be. Thomas asked to put his hand in Jesus' wounds; what would we want as proof of God's existence? 
Whatever your doubts, struggles, fears or questions may be – bring them to Mass. Thomas' story does not end with doubt, and ours does not need to end that way either.
You'll find us on Instagram Livestream @BrentwoodCYS, or on YouTube where our channel is BrentwoodCYS. There is a booklet for the Mass, with hymns and readings to download on a second screen, or to print, to help participate in the Mass: Youth Mass Booklet – St Thomas the Apostle
EVERYONE IS WELCOME – see you online!