For the direct YouTube link for this Mass
simply click here: Year 6 Leavers Mass Livestream Link
The Mass Booklet to follow the readings and hymns is here, to download and follow on a second screen, or to print: Year 6 Leavers Mass Order of Service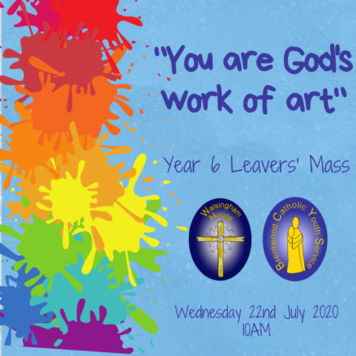 Our 2020 Year 6 pupils have had a "rollercoaster" year – from mid March everything changed, and although many are now back at school, it is a very different type of school experience!
As they prepare to make the transition to new Secondary schools, they are very much in our thoughts and prayers. One of the feature of the end of term would normally be a Leavers' Mass, and there is certainly much to pray for – joyful memories of years at primary school, friendships made, and talents discovered and developed. There is also the sadness of illness and bereavement. We bring it all to God's love and care.
This Mass is especially for children in parishes where the priest is ill or shielding, or where parishes do not have the technology for a Livestream to parents and grandparents. We know that children from at least 10 different schools will be joining the Mass, and (of course!) everyone is very welcome online.
The Mass includes a special recorded message from Bishop Alan, who is keeping all of the children in prayer, and it will be Livestreamed from the chapel at Walsingham House at Abbotswick, where many young people come on retreat – including many who are now in Year 6 who will come on school and Confirmation retreats in the years ahead.
There will be a Mass Booklet to download (to print or to look at on a second screen) available here from Friday 17th. 
Everyone is very welcome online – the link to the Mass is Year 6 Leavers Mass Livestream Link and Mass begins at 10am.