PLACES FOR SUMMER LOURDES 2018 HAVE NOW BEEN ALLOCATED.
ANY APPLICATIONS RECEIVED AFTER 31/01/2018 WILL AUTOMATICALLY BE PLACED ON A WAITING LIST.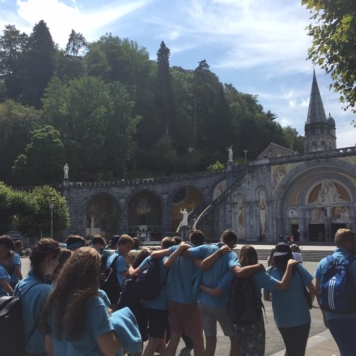 Join the Brentwood Catholic Youth Service on our hugely popular Summer Lourdes Pilgrimage which, this year, marks our 40th Anniversary.
We travel alongside the diocese to assist the elderly and infirm on their annual pilgrimage, particularly those in wheelchairs.
Alongside this we also run a retreat, daily Masses and excursions for the young people, as well as experiencing the Lourdes Torchlight Procession and Blessed Sacrament Procession.
Please be aware, this event is always heavily oversubscribed.
PLEASE NOTE:
This year's pilgrimage will be leaving Brentwood on Sunday 22nd July at 2:30pm and returning on Sunday 29th July at 4pm.
This is due to the dates of the adult pilgrimage and also travel restrictions on the Saturday.
To serve as a leader in Lourdes it is compulsory to attend the Leaders Training weekend which will take place  on Saturday 30th June (all leaders) and Sunday 1st July (First time leaders) at Walsingham House. Please save these dates.
There will also be an information evening for young people and parents on Sunday 1st July at 6:30pm. This will take place at Most Holy Redeemer Church in Billericay.
To make sure everyone has a fair chance for applications we will have an application "window" between October and January.
Forms will be date marked as they are received and then will be allocated as described below.
NO PLACES WILL BE CONFIRMED UNTIL FEBRUARY 2018.
Once your place has been confirmed we will require a £100 deposit in order to secure this place.
SELECTION PROCESS
The first 125 places will be offered to those from school years 10—12.
Up to 25 places will be offered to those in school year 13.
Places will be allocated to ensure as many parishes and schools as possible from the diocese are represented. 
Where we receive a large number from one school or parish, places will be allocated on a "first come, first served" basis.
WE EXPECT TO BE HUGELY OVERSUBSCRIBED AGAIN THIS YEAR SO WE DO ENCOURAGE BOOKING AS SOON AS POSSIBLE.
If you have any questions or concerns please speak to us as soon as possible, by emailing [email protected] or [email protected]