Once again this year, we were very sorry to not be taking a pilgrimage to Lourdes, as even with the vaccines, there are so many uncertainties about what travel will be like. This includes what it will mean to be in a place full of international pilgrims, and what will be possible in terms of different households mixing. In addition, medical staff have been dealing with crisis and trauma for many months, and will need as much rest as possible when they can next take a holiday.
We have, however, been working hard to put together an event you may still be able to take part in, and are very excited to announce that we will be hosting "Lourdes at your Local" for Summer 2021.
From Monday 26th – Friday 30th July, we will be celebrating a Lourdes Mass each morning in a Parish near you, so that we can all experience the joy of our annual pilgrimage despite not being able to travel to France this summer.
You are invited to join us for Mass at 11am, with Anointing of the Sick, joyful music from our talented young musicians and a chance to catch up over a cup of coffee and refreshments in the parish hall afterwards.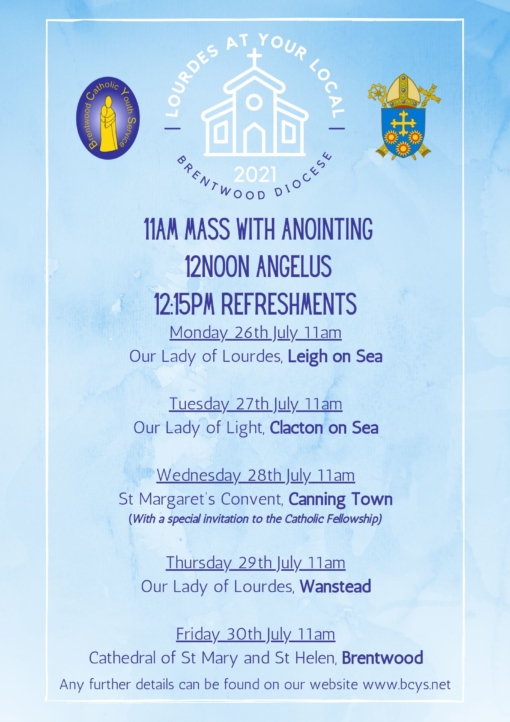 For those still unable to travel, you will also be able to watch these Masses at home each evening from 5pm and we will continue to bring you virtual content each day including a Morning Prayer at 10am, Torchlight Procession and Talent Show, all of which you can enjoy from the comfort of your own homes.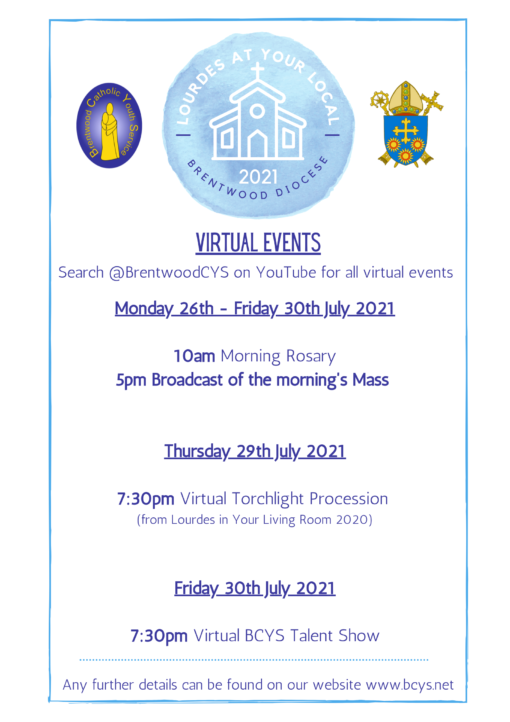 If you have any prayer intentions you had wished to send to the Lourdes, we are also hoping that there will be someone able to travel and offer these at the Grotto for you – you can send them to Gabriella Skinner, Walsingham House at Abbotswick, Navestockside, Nr Brentwood, Essex, CM14 5SH, or email them to [email protected] before 30th June.
Although we are not entirely certain what the COVID restrictions (if any!) will look like by July, we remain optimistic that these Masses will be able to take place and we are very much looking forward to welcoming you all back to celebrate with us.
If there are any changes, we will aim to keep you updated on our website www.bcys.net/events