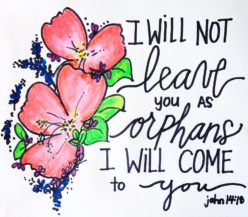 Join us for Sunday Mass from the chapel at Walsingham House at Abbotswick. With music supplied by BCYS friends from across the Diocese, the Mass will be an uplifting celebration. The Gospel begins to prepare us – and the disciples – for both the Ascension (celebrated next Thursday, 21st May) and Pentecost (31st May) – "The Father will give you another Advocate", promises Jesus, and "I will not leave you orphans." This understanding of Jesus' close and tender accompaniment matters a very great deal as we continue to grapple with all the effects of the pandemic.
Viewing on YouTube means you can watch on a large screen, perhaps as a whole family; the link to our channel is: https://www.youtube.com/c/brentwoodcys. The direct link to the Mass will be posted here on Friday.
Viewing on Instagram means that you can add prayers at the Intercessions, and shower the screen with hearts at the sign of peace. You'll need the Instagram App and you'll find us @BrentwoodCYS
We go live at 10.25am to give you time to be sure you are logged in, settled and ready for Mass. We encourage you to have a crucifix and a candle, if it is possible, to help you focus as steadily as possible during this time of prayer.
The Mass Booklet is here, with the hymns and readings, to download as a PDF, or to have on another screen, to help follow the Mass: Sixth Sunday of Easter Order of Service
Everyone is very welcome online!