Join us for Sunday Mass from the chapel at Walsingham House at Abbotswick. With music supplied by BCYS friends from across the Diocese, the Mass will be an uplifting celebration.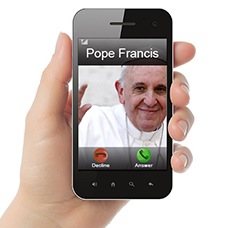 Today is World Communications Day, and in his message for the day Pope Francis focuses on stories, saying that we need, "Stories that build up, not tear down; stories that help us rediscover our roots and the strength needed to move forward together. Amid the cacophony of voices and messages that surround us, we need a human story that can speak of ourselves and of the beauty all around us."
The full text of Pope Francis' message is here: World Communications Day
The Gospel takes us towards the end of Jesus' farewell message to his friends: "Eternal life is this: to know you, the only true God, and Jesus Christ whom you have sent."
Viewing on YouTube means you can watch on a large screen, perhaps as a whole family; the link to our channel is: https://www.youtube.com/c/brentwoodcys. The direct link to the Mass is YouTube World Comms Day Mass 
Viewing on Instagram means that you can add prayers at the Intercessions, and shower the screen with hearts at the sign of peace. You'll need the Instagram App and you'll find us @BrentwoodCYS
We go live at 10.25am to give you time to be sure you are logged in, settled and ready for Mass. We encourage you to have a crucifix and a candle, if it is possible, to help you focus as steadily as possible during this time of prayer.
The Mass Booklet includes with the hymns and readings, to download as a PDF, or to have on another screen, to help follow the Mass: World Communications Sunday Order of Service
Everyone is very welcome online!