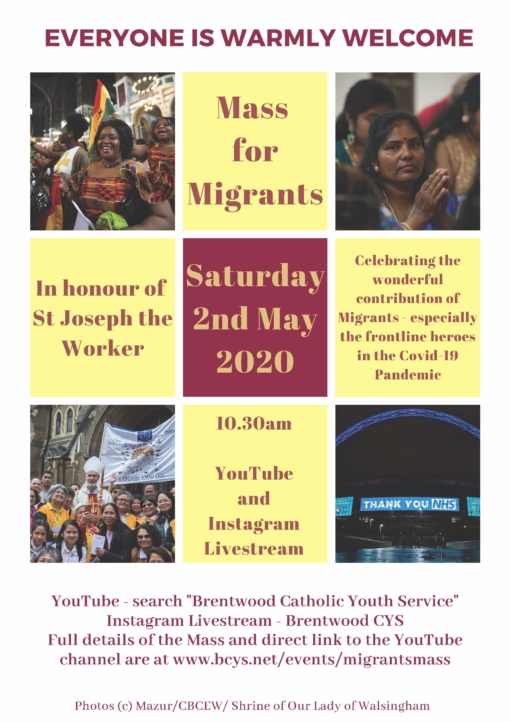 Each year, near to the Feast of St Joseph the Worker, the migrant communities of Brentwood, Southwark and Westminster Dioceses gather for a Mass that is full of song, vibrant energy and great joy.
The Mass should have taken place in Forest Gate this year, but as we cannot gather, we will celebrate by Livestream Mass at 10.30am on Saturday 2nd May.
You will find the Mass on Instagram BrentwoodCYS or on YouTube at the Brentwood Catholic Youth Service channel – the direct link is https://youtu.be/lGLfjz5wSHc 
The booklet of hymns and readings for the Mass is available as a PDF to download / print, as a help in following the Mass: Migrants Mass Order of Service
Many Migrant Workers are amongst those on the "frontline" – in the NHS and care homes; working as delivery drivers, cleaners and caterers. As so many of them are also amongst the most financially vulnerable, working on zero hours contracts or pay that is below the Real Living Wage, this is a moment to honour them in prayer, as well as reminding ourselves of the wonderful Catholic Social Teaching that recognises everyone as "our brothers and sisters", calls us to tear down borders that divide and exclude any group of people, and has mandated us to pay a Real Living Wage ever since Pope Leo XIII wrote about it in 1891. 
The Mass can only be online, of course, as we cannot gather together physically  – sadly we also know that not every family can access the Internet as they have no wifi or no laptop; perhaps if you know a family near to you in that position, you can find a way to help them. If you are not familiar with Instagram, the graphic below explains how to find us. All are welcome – see you online!