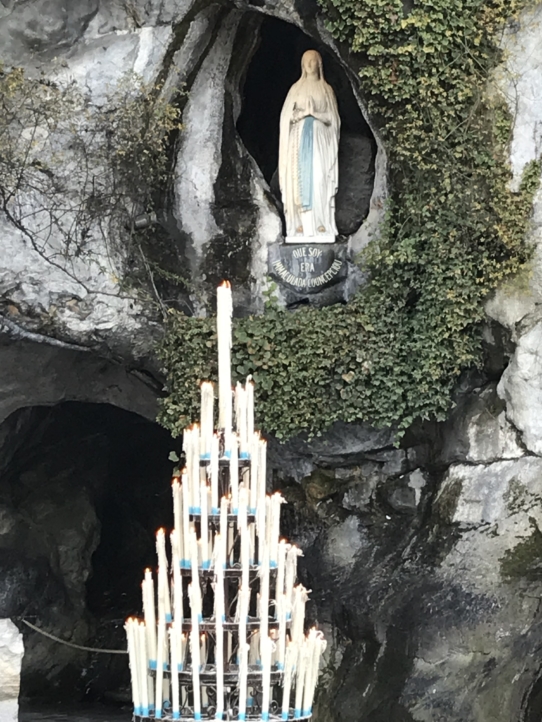 LOURDES IN YOUR LIVING ROOM – MONDAY
On Monday our focus is the Grotto, as we think about arriving and settling in for the pilgrimage. 
There will be a liturgy booklet available from 15th July
The PDF version of the adult timetable is here, including Morning Prayer on YouTube and the Masses and liturgies below: Lourdes in your Living Room – Adult PilgrimTimetable
The full BCYS Timetable for young people and leaders aged 15-23 is:
09.00 – 09.20 Morning Prayer for Year 10-12 and leaders, Instagram Live, led by Michael Barwick & Harry Rawcliffe
09.00 – 09.20 Morning Prayer for Year 13s, on Zoom, led by Joe Beattie & Fr Dominic
09.30 Daily Challenge, set by Joe Beattie
10.30 Livestream Mass with Bishop Alan preaching, on YouTube.
12.00 Angelus and Rosary, led by Fr Adrian Lowe
16.30 – 17.00 Afternoon reflection from Fr Paul Keane, Director of the Lourdes Pilgrimage and former Chaplain of the University of Essex, on YouTube
19.00 – 20.30 BCYS Quiz, led by the inimitable Joe Kwasnica, Liam Walsh and Matt Tisi
21.30-21.45  Night Prayer and Reflection, led by Joe Beattie
For information about how to take part please check your emails if you travelled / were due to travel in 2019 or 2020, as well as following us on Instagram (@BrentwoodCYS) for updates, and subscribing to YouTube (@BrentwoodCYS) for reminders when live events are due to begin.