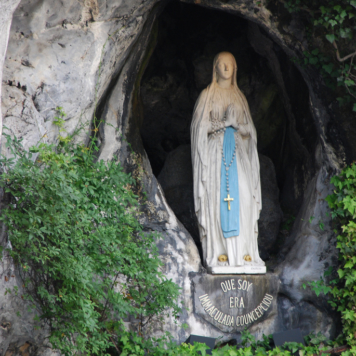 LOURDES IN YOUR LIVING ROOM – FRIDAY
Today our focus is on water and blessings, as our virtual pilgrimage draws to a close.  
There will be a liturgy booklet available from 15th July
The PDF version of the adult timetable is here, including Morning Prayer on YouTube and the Masses and liturgies below: Lourdes in your Living Room – Adult PilgrimTimetable
The full BCYS Timetable for young people and leaders aged 15-23 is:
09.00 – 09.20 Morning Prayer for Year 10-12 and leaders, Instagram Live, led by Molly Conrad, former Walsingham House Team member, recent graduate of the University of Exeter, and Intern at the Catholic Education Service. 
09.00 – 09.20 Morning Prayer for Year 13s, on Zoom, led by Joe Beattie, Manager of Walsingham House at Abbotswick.  
09.30 Daily Challenge, set by Joe Beattie
10.30 Livestream Mass with Fr Paul Keane preaching, on YouTube.  
12.00 Angelus and Rosary, led by Fr Adrian Lowe, recently ordained priest for the Diocese of Brentwood. 
15.30 – 16.30 BCYS Q&A with Bishop Alan – questions from young people. This will be broadcast on YouTube
17.00 – 17.45 Stations of the Cross, with image of the Lourdes "High Stations" and reflections first used on Good Friday, focusing on the Coronavirus Pandemic.
19.30 – 21.00 The Talent Show – songs, sketches and entertainment from people of all ages from across the Diocese, compered by Michael Barwick and Matt tisi. YouTube Livestream. 
21.30-21.45  Night Prayer and Reflection, led by Michael Barwick and Fr Dominic – a reflective conclusion to the pilgrimage, from the grotto at Walsingham House at Abbotswick.
For information about how to take part please check your emails if you travelled / were due to travel in 2019 or 2020, as well as following us on Instagram (@BrentwoodCYS) for updates, and subscribing to YouTube (@BrentwoodCYS) for reminders when live events are due to begin.