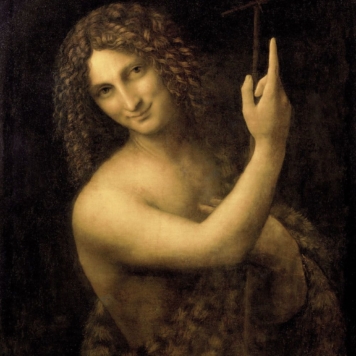 Today is the Feast of the Nativity of St John the Baptist. He "leapt in the womb" when Mary visited Elizabeth; he prepared the way for Jesus; he Baptised Jesus; and ultimately he gave his life as a witness to Jesus. 
The famous image of St John the Baptist pictured here is by Leonardo da Vinci – showing the Saint pointing the way to Jesus, while dressed in "a garment made of camel hair" as described in Matthew's Gospel. 
There are many people in our lives who "prepare the way" – people who show us what to do, and how to do it. People who affirm and support us, making our pathways easier. People who believe in us, and encourage us to aspire to great things. 
In our lives of faith we have priests, teachers, youth leaders and catechists who all prepare the way for us, showing us the truths of faith, and helping us with questions of faith, opening pathways for us to discover and discern. 
Who have been the people in your life who have preared the way for you? In this Mass we will honour and pray for them, while refelcting on the life and inspiration of St John the Baptist.
You'll find us on Instagram Livestream @BrentwoodCYS, or on YouTube where our channel is BrentwoodCYS. There is a booklet for the Mass here, with hymns and readings to download on a second screen, or to print, to help participate in the Mass: Youth Mass booklet – St John the Baptist. 
EVERYONE IS WELCOME – see you online!