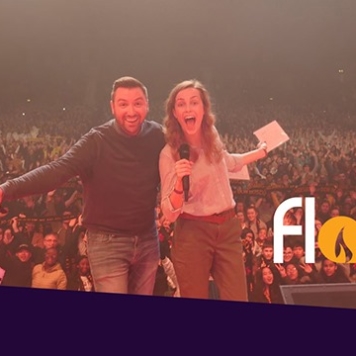 Flame is returning to Wembley Arena on Saturday 4th March 2023.
This will be the fifth Flame Congress, and over the years thousands of young people from the Diocese have taken part in this full day event which is full of energy, prayer, joy and hope, with content that is ideal for young people from Year 10 to Year 13 (age approx. 15 – 18).  
Just before Christmas we heard the tremendous news that Cardinal Tagle will be amongst the speakers at Flame. He has spoken to many, many thousands of young people all over the world, and he will be sure to inspire your young people.
He joins the President of the Australian Bishops Conference, Salesian Archbishop of Melbourne, Tim Costelloe, SDB, who is flying half way across the world to be at Flame.
Amongst the musicians are MOBO and Urban Music Award winner Guvna B, rising star Faith Child, Catholic band One Hope Project and soloist Adenike – Adenike was herself a 17 year old at a previous Flame, and since then has been a Finalist on The Voice. 
Other speakers during the day include Robert Billot, an American lawyer who is the main character in the film Dark Waters; Jenny Garzón Saavedra is a young advocate joining us from the Amazon rainforest; we will hear an original reflection from David Wells; and Brenden Thompson and Georgia Clarke from Catholic Voices will be introducing Adoration, led by Cardinal Vincent Nichols.
The event is generously sponsored by The Catenian Association, Assumption Sisters, CCLA, Jesuits and Salesians, and this means that Flame Passes cost just £24/person if you book before 31st January. Right next to Wembley Stadium, the OVO Arena Wembley is wonderfully accessible by road, train and tube.
As youth ministry "rebuilds" after the pandemic we hope this is an exciting prospect – something to aim for, and give hope, as young people (and all of us) get used to socialising again.
The theme of Flame 2023 – which is exactly 150 days before World Youth Day in Lisbon – takes the World Youth Day Scripture
"Mary arose and went in haste"
and crystallises it into the theme,
"Rise Up!"
Rise up after the pandemic, Rise up as young Catholics, Rise up – as Mary did – for the surprising and beautiful adventure that is our Catholic faith.
You can visit the CYMFed Website to find out more information by clicking here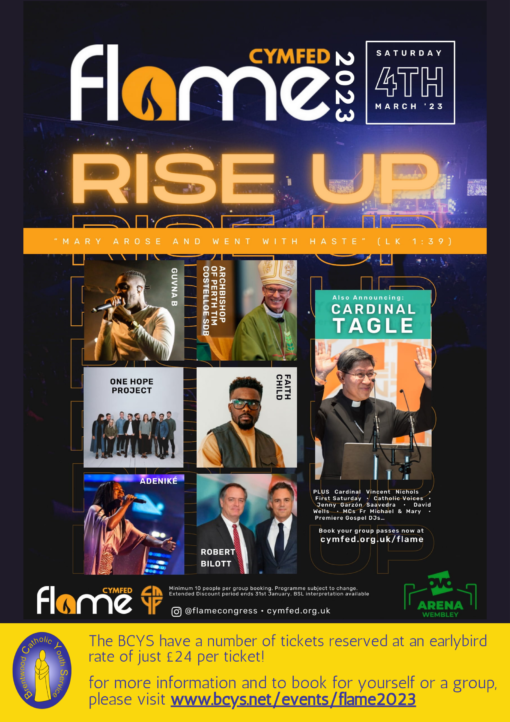 Group Bookings
The event is ideal for Confirmation and post-Confirmation groups, or school groups. It is a vibrant experience of young Church, concluding with Adoration led by most of the Bishops of England and Wales; the whole day really opens the young people's horizons about what the Church is, and their part in it.
Prices are for event passes are £24 for the day for earlybird bookings; after 31st January the price rises to £27.
To be part of the Brentwood Catholic Youth Service block booking – with seats, we hope, near to the front of the Arena, we need you to do just three things:
Chat with those who could bring a group from your parish, and decide on the number of passes you want to book. You will need to arrange your own transport – we are fortunate that unlike groups from North Wales, Cornwall or Newcastle, Wembley Arena is within an hour for much of the Diocese, and at most two hours. For those within the London Boroughs you may well find that trains may be cheaper and easier than a coach. Partnering with schools and using school minibuses may also be a possibility.
Email

[email protected]

with the name of your parish, and the number of passes.
Pay at least a £5/pass deposit, ideally at this stage please pay the full ticket amount. 
If you have any questions, need help with a Risk Assessment, or want to chat about getting a group together, please get in touch – simply email [email protected].
Individual Bookings
If you wish to come on your own or with friends as part of the BCYS group, create or log in to your BCYS account and then click the "Apply Now" button at the top of this page to apply and make payment for your ticket.