The Easter Vigil is a dramatic celebration of the Resurrection of the Lord, including fire, candles, holy water and Holy Communion. This year, as we celebrate virtually, we encourage you to prepare yourself well for an amazing couple of hours. You can download or print the Order of Service as a PDF here: Easter Vigil Order of Service
If you are able to, you may begin – as we will – with a little fire outside. This is a symbol of Christ, the Light of the World, and a symbol of Resurrection, as the light breaks through the darkness, just as Christ bursts from the tomb – life conquering death, for ever.
Inside your house or flat have a little candle, if you can – a symbol of the light spreading, to each of our hearts and homes.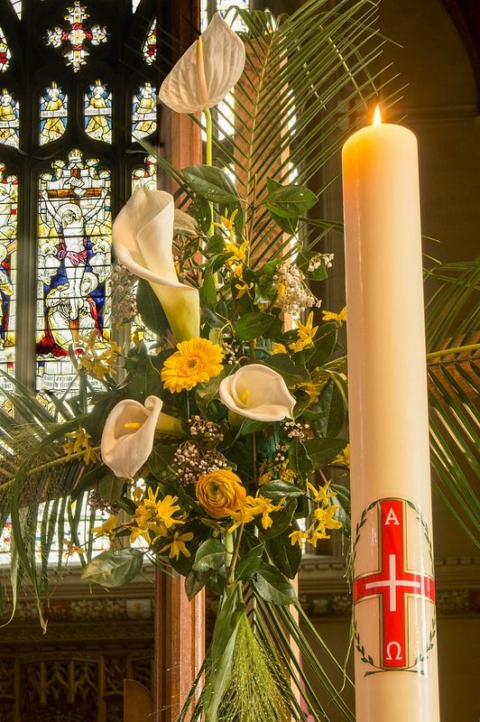 You may wish to have a bowl of water too, and symbolically bless yourself at the moment of the renewal of Baptismal promises. 
To cope with the demands of doing this online, and to help people not to have to be fixed to a screen for too long, we will be celebrating in two halves:
8pm – 8.45pm – the Easter Fire, Exsultet (song of praise), and readings
9pm-10pm – the Gospel, Homily, Renewal of Baptismal Promises, Liturgy of the Eucharist and Easter Blessing 
To access the Mass online, simply follow this little guide. See you online, and we wish you a BLESSED EASTER, full of the hope of the Resurrection.