You are warmly invited to join us at Walsingham House at Abbotswick for our annual advent Carol Service on Sunday 12th December. 
For just £10 you can hear Christmas carols both classic and contemporary performed by our incredibly talented BCYS musicians, accompanied with readings from scripture and Christmas poems & stories. The event will be followed by light refreshments in the Main House. A beautiful event for the whole family, to help us all journey through Advent and prepare for Christmas.
This is a fundraising event to raise money to help young people travel on pilgrimage to Lourdes in order to support either young people with additional needs during HCPT's Easter Pilgrimage, or our Summer Pilgrimage in support of pilgrims from the Brentwood Diocese who need additional help during their time in Lourdes.
This year we are running two concerts, at 3pm or 7pm in the hope that everyone who wishes to attend is able to, however there will be limited capacity at each event and this will be dependent on any current Government restrictions or social distancing, in place at the time.
This is a ticketed event, so please contact Joe Beattie, Walsingham House manager, to reserve a place, on
[email protected] or 01277 373 959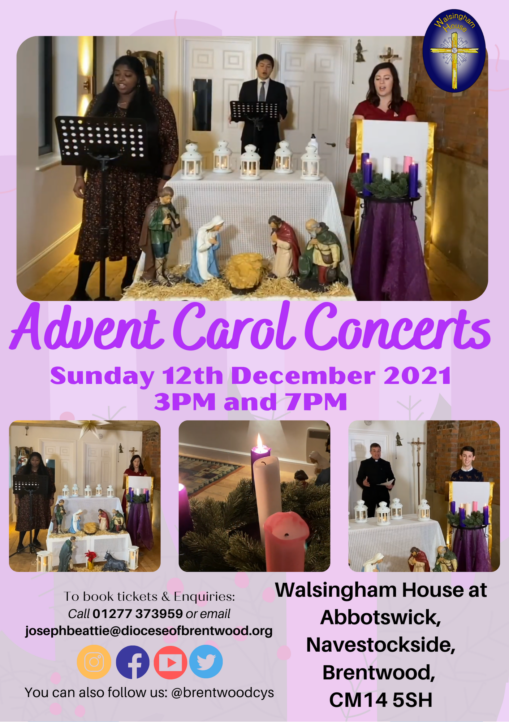 For a flavour of what you can expect, you can watch last year's Carol Concert on our Youtube Channel: @BrentwoodCYS
https://www.youtube.com/watch?v=2rQteQkyUx0&t=1266s