PLEASE NOTE: Our BCYS Livestream Sunday Mass will finish at the end of August, and Fr Dominic will continue to celebrate Mass on Livestream from Romford.
First Wednesday of the month Youth Mass will continue to be streamed from Walsingham House at Abbotswick at 8pm

(next Mass, Wednesday 5th August)

In Romford the Parish Priest, Fr Tom Jordan, is seriously ill, and the BCYS Team bring our kit over there each week, to enable this Livestream via our YouTube channel. It is a beautiful church and everyone is very welcome online!

The direct link to our YouTube channel is www.youtube.com/c/brentwoodcys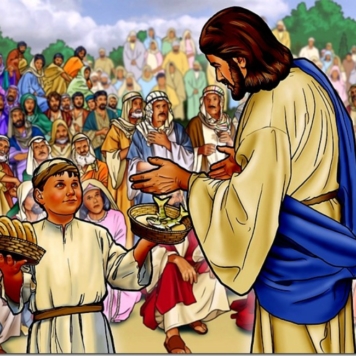 In today's Gospel we hear the story of the five loaves and two fish, feeding the 5,000 people gathered to hear Jesus. It is a story of superabundant generosity – the generosity of the love of Jesus. It is also a story that points us towards the Eucharist – Jesus blesses the bread, and breaks it, so that it can be shared. It is a model for our lives – live generously, with a heart of giving and sharing, even when this also means sacrificing. Join us online to consider this powerful story further, in reflection and prayer during the Mass.