Calling All Confirmation, First Holy Communion Catechists And Children's Liturgy Leaders
19th September 2019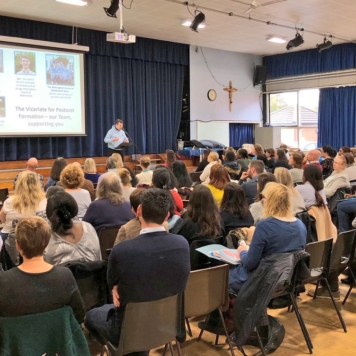 Calling all Confirmation, First Holy Communion Catechists and Children's Liturgy Leaders
Are you currently working as or thinking about being involved in your parish as a  First Holy Communion or Confirmation Catechists, or look after the children's liturgy?
We would like to invite you to join us for a training day on Saturday 9th November, at Sacred Heart School, Upminster, where you will have the chance to hear about fresh resources, as well as receiving input to assist you in your  programmes.
Confirmed workshops include
Sycamore with Fr Stephen Wang
Year of the Word with the Bible Society
Godly Play and the Children's Liturgy
New offers for Catechists from Million Minutes
… among many others!
We would particularly like to welcome any young catechists or young people in your parish (16+) who may be interested in working as or with catechists, and wish to develop their faith further post-confirmation.
There will be a special session for them.
Fr Dominic and Brenden Thompson (CEO of Catholic Voices) will give keynote speeches, reflecting on Pope Francis latest document about Youth Ministry, Christus Vivit ("Christ is alive!") and the day will be packed with resources and ideas to inspire you in your work.