It has been a busy Summer with BCYS
19th September 2019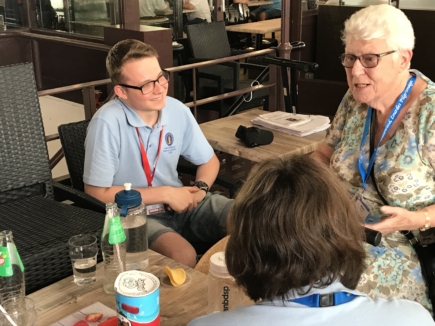 It has been a busy Summer with BCYS, seeing a few new events taking place with the Youth Service and at Walsingham House at Abbotswick.
A group of our young leaders organised a fantastic charity football match, which unfortunately saw the young people defeat the leaders once again, whilst also raising over £1000 to help those in financial difficulty attend our events.
Following on from this we also took a group of 217 on another very hot but incredibly wonderful pilgrimage to Lourdes at the end of July. Perhaps if there were young people in your parish or schools who attended they will look to share their own experiences with you if they have not already.
Young adults from the BCYS have been active in many other projects as well – several have served as helpers at the SVP St John Bosco Summer Camp, and one has been in Greece for the summer, helping at a Refugee Camp. Others joined a "Calais Light" convoy in June, and will be sharing this experience just before the November Youth Mass.
As well as all this, Walsingham House at Abbotswick has been full and busy, welcoming adults from around the diocese to a quiet residential retreat a fortnight ago, and last weekend, with the help of the SVP, hosting a number of disadvantaged families so that they could have their own short Summer break. For some of the families it was their first holiday for a decade. The new Walsingham House Volunteer Team move in on Sunday 1st September, to begin three weeks of training and formation before the first retreat group on 23rd September. After that the House is full booked until next May, with just odd days now available.