Applications Open for Walsingham House Team 2023-2024
27th June 2022
Currently in Year 13 or in your final year at University or just looking to explore something completely new?
If you are 18 – 23 and looking for an exciting gap year opportunity, then a year on the Walsingham House Team could be for you.
There are several places available, starting in September 2023 and finishing in July 2024. 
Walsingham House volunteer role description 2022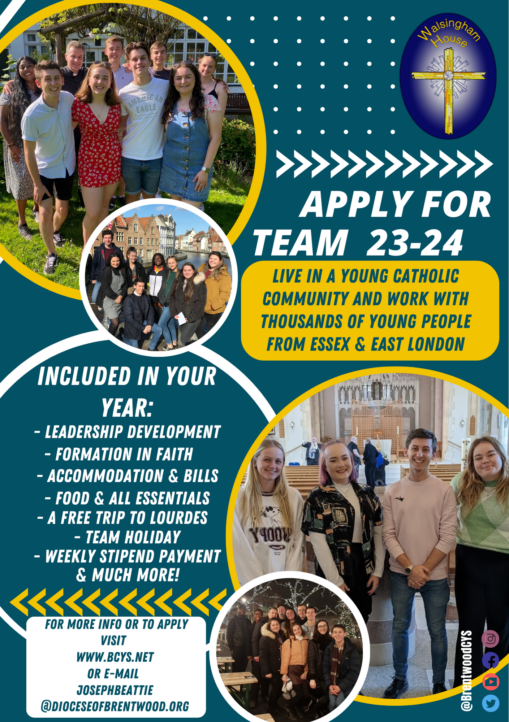 Spend a year as a volunteer in a thriving young Catholic Community, working with thousands of young people from Essex and East London. We offer retreats to school classes and parish Confirmation groups, including times of prayer, reflection, discussion, team games, music, drama and art. As a volunteer you would help to lead a small group of young people on retreat, as well as some practical tasks. The year is great preparation for living further away from home, at University, or for beginning full time work. Once of our recent Team members is a Sports Coach, another a School Chaplain; others are training as Doctors, studying Biochemistry, Business or English. Whatever your skills and gifts, you will find like minded Team members who want the very best for young people, in a House inspired by faith in Jesus Christ. 
We are looking for inspiring individuals who want to share their faith with other young people and are also looking to learn new skills, grow deeper in their own faith and enjoy a challenge. We will help you – with training at the beginning of the year, and as the year goes along – to make sure you have the Youth Ministry and practical skills that you need. Living and working as a Team and Community means there is always someone around to ask, if needed. 
You will have your own room – most of the Team rooms are en-suite – as well as access to a shared kitchen, and a shared lounge. The Team house was refurbished in 2018, and it is a comfortable place to live. Outside you have the 14 acres of grounds, which are beautiful to stroll around, as well as plenty of space for football or running, if that is your thing. 
Accommodation, food and all essentials are provided, as well as a weekly stipend to cover your essentials such as travel, clothes and toiletries. Throughout the year, we offer faith based formation and professional development in order for you to grow as a young leader.
We also travel on a Team Holiday each year, as well as concluding the year with a week long trip to Lourdes, France as part of the BCYS in Summer.
If this would interest you, please do not hesitate to contact the Retreats Facilitator, Joseph Beattie by e-mailing [email protected] , direct messaging us on our social media @Brentwoodcys or calling 01277 373 959
 If you would like to visit Walsingham House before applying, to understand more of what we do, contact [email protected] to arrange a visit.