Applications for the Walsingham House Team 2022-23 Now Open!
11th November 2021
Applications for the Walsingham House Team 2022-23 Now Open!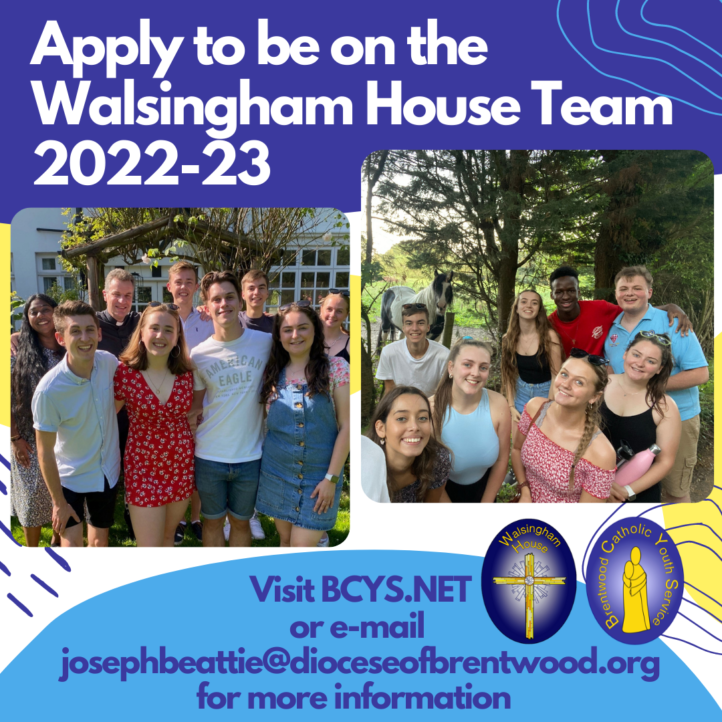 If you are 18+ and looking for an exciting gap year opportunity, then a year on the Walsingham House Team could be for you.
Spend a year as a volunteer in a thriving young Catholic Community, working with thousands of young people from Essex and East London.
We are looking for inspiring individuals who want to share their faith with other young people and are also looking to learn new skills, grow deeper in their own faith and enjoy a challenge.
Accommodation food and all essentials are provided, as well as a weekly stipend payment.Throughout the year, we offer faith based formation and professional development in order for you to grow as a young leader.
We also travel on a Team Holiday each year, as well as concluding with a week long trip to Lourdes, France alongside the BCYS in Summer.
If this would interest you, please do not hesitate to contact the Retreats Facilitator, Joseph Beattie by e-mailing [email protected] , direct messaging us on our social media @Brentwoodcys or calling 01277 373 959
Or if you're already ready to apply, see the role description and application form below. Complete it and return it to Joseph Beattie (above)
Walsingham House volunteer role description 2021
Applications close Monday 21st February  2022. Interviews will be conducted over a weekend in March 2022. If you would like to visit Walsingham House before applying to understand more of what we do, contact [email protected] to arrange a visit.